Share:
Heatherhurst Golf Course Review
Two of Fairfield Glade's Best Courses
By David Theoret
Golf may not be the first thing that comes to mind when you think of Tennessee, especially the small town of Crossville on the eastern side of the state. Crossville is known as the "Golf Capital of Tennessee," with no less than 10 championship golf courses in the Cumberland County area.

Five of the area's best courses are located in Fairfield Glade, a resort and retirement community located just north of I-40. About 8,300 residents call Fairfield Glade home; it's situated on the Cumberland Plateau, between Nashville and Knoxville. Fairfield Glade is popular for "halfbacks," retirees who moved from somewhere up north as far south as Florida and are now moving halfway back to be within easy driving distance of family and friends. Consequently, you'll find a lot of people originally from Michigan, Ohio, Illinois, and Indiana here. The area is blessed with four mild seasons and golf can be played year-round. No state income tax, low property taxes, and an overall low cost of living only add to the attraction of residing in the area.

If you haven't been out to Fairfield Glade in a while, you may notice several differences. There's now a clubhouse at Dorchester; it opened in 2015. Likewise, there have been some major renovations at Stonehenge, primarily at the grill and pro shop and a new maintenance building was added in 2018. The two courses at Heatherhurst and Stonehenge have all undergone extensive bunker renovation and now feature Better Billy Bunkers, considered by many to be the best bunker construction in the world.

The five courses at Fairfield Glade play out of 4 clubhouses, each with its own practice facility. Three of the four facilities have short game practice areas complete with bunkers. As if that's not enough, There's a TrackMan simulator in the Fairfield Glade Community Center where you can play any number of courses from around the world or sign up to take a golf lesson on it. There are two courses at Heatherhurst, the Crag, and the Brae. The facility was built in stages; the front nine of the Crag opened in 1989 and the back nine opened in 2000. In 1991 the 3rd nine was completed and from 1991 - 2000 Heatherhurst was a 27-hole facility. In 2000, another 9 was added and this now 36-hole facility had two separate and distinct 18-hole championship courses: The Crag and The Brae.

Many consider the Crag the easier of the two, probably because it plays a lot shorter. That being said, the Crag course is as beautiful as it is challenging, especially when you get to the back nine. There are significant elevation changes and a range finder with a slope feature is a good asset to have, unless you're playing in a tournament, where it may be frowned upon! Many fairways are wide open off the tee and since the holes aren't extremely long - a few of the par 5s are reachable in two with a good drive. The emphasis is on your approach shot if you want to score well. One of the more memorable holes on the Crag layout is Number 17. This short par 4 is the course's signature hole and is the most scenic hole on the course, if not the entire property. Stand on the overlook behind the tee box and you'll see what I mean. The Crag course was designed by Gary Roger Baird and opened in 1989.

In 2017, the Brae Course at Heatherhurst was named one of the Top 5 Courses you can play in the State of Tennessee by Golf Week Magazine. The Brae Course at Heatherhurst was also designed by Gary Roger Baird and opened in 1989. The Brae is the only course in the area with Zoysia grass fairways and the subtle undulations in them as well as the true rolling greens will keep you coming back round after round. Each side features a picturesque par 5. The 4th hole plays 495 yards from the White Tees and features a double dogleg that requires two forced carries over Otter Creek; it's said to be one of the toughest par 5's in Tennessee. To me, The Par 5, 10th hole was stunning. Number 10 is a slight dogleg left and starts with a blind tee shot. Pull your tee shot left and you'll find the woods. It's all downhill from there - literally - to a green that overlooks beautiful Lake Dartmoor.

Golf's not the only thing Fairfield Glade has to offer its residents. There are two full-service marinas and a racquet sports center complete with clay courts, indoor tennis, and pickleball courts. Fairfield Glade has also been blessed with mile after mile of hiking trails.

Springtime is the prime golf season in Tennessee and Fairfield Glade is the place to be for visitors from all over the area. There are a few reasons for this, the biggest being the fantastic golf that can be played within the community. Five beautiful and challenging courses in one location! The second could very well be the weather, with an average temperature of 59 degrees in March and 69 degrees in April.

Fairfield Glade is a golfer's paradise and with five spectacular golf courses, you can easily make a week of it. Depending on the time of year, many homes in the community can be rented by the month, giving you plenty of time to learn the lay of the land and fall in love with the community. If you prefer to stay off-property, there are several well-known hotel chains in the area. A third option is a Club Wyndham timeshare, available through Extraholidays.com. These units come fully furnished and are available with 1 - 4 bedrooms; perfect for a couples golf getaway or a foursome with the guys - or gals! A number of golf packaging companies have put together some tremendous Fairfield Glade stay and play packages; you can book through Fairfield Glade or one of several area golf packagers.

Golfers in the midwestern states of Pennsylvania, Ohio, Michigan, and Illinois have several golf travel alternatives for their golf vacations. Fairfield Glade and the plateau area of Tennessee has a lot to offer when compared to alternatives such as Myrtle, Beach, Hilton Head or Savannah, GA. It's a lot easier of a drive - less than an hour from where I-75 splits with I-40 outside Knoxville - and a lot friendlier on the wallet. You don't have to travel far to get a good meal either, whether you're looking for a quick bite at the course or dinner and drinks after your round. Each clubhouse has a snack bar with the usual at-the-turn necessities or you can have a nice sit-down meal at the Stonehenge Grille or Legends, located in the Druid Hills clubhouse.

Fairfield Glade wants everyone to know that after 50 years the community is still thriving and continues to invest in all of their golf courses. If you haven't visited them in a while, it's time to come back and experience everything they have to offer, During your visit to Fairfield Glade, you'll have scenic views of the surrounding mountains, good changes in elevation, and access to five golf courses that offer tremendous challenge and beauty. In short, it's a golf vacation you'll remember for a long time.
Article Tags: Fairfield Glade, Dorchester, Stonehenge, The Crag, The Brae, Druid Hills, Heatherhurst
Revised: 06/18/2020 - Article Viewed 8,713 Times - View Golf Course Profile
About: David Theoret
---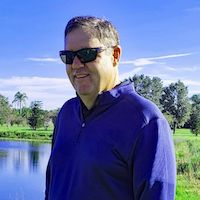 David Theoret has been in the golf and golf travel industry for over 10 years, primarily selling online advertising. For the past seven years, he has also been a golf writer, reviewing golf courses, resorts, destinations, equipment, golf apparel, and training aids - the latter of which never seems to help. David's articles and reviews have been posted on many golf travel and equipment websites.

Growing up in Southwestern Ontario, Canada, it was naturally assumed he would play hockey. Beginning at the age of 3 and continuing into his late 30's, he did just that. However, after one too many pucks to the head, he realized that golf was a lot easier on the body (whoever said hockey players were slow) and took the game up.

After moving to Florida and accepting a position with TravelGolf Media (now part of GolfNow) his love for the game grew exponentially. Most Saturdays you will find him on a course somewhere in Florida or on the practice range reinforcing his bad habits. David plays to a 10 handicap - unless there is money involved in which case it goes considerably higher. He currently resides in Lakeland, FL with his wife Belinda and their two "kids", Madyson and Molly.

---
More Articles by David Theoret
More Related Articles