Share:
---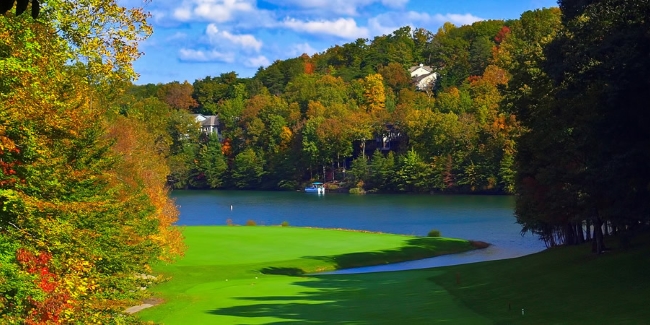 Fairfield Glade Resort
Tennessee's Year-Round Playground
By Ed Stone
Fairfield Glade in Crossville, Tennessee offers five (5) golf courses (90 holes) that rival some the best in the Southeast and probably most of the country. The best part is this scenic 12,500 acre semi-private resort loaded with amenities is available for the public to enjoy. Fairfield Glade is less than a two-hour drive from Nashville, Chattanooga or Knoxville. This is the summer home base for GoGolfandTravel.com. For those of you in the surrounding area who thought it was only for property and Wyndham timeshare owners, then we are going to tell you how you can enjoy this most beautiful all-round resort...did we say five golf courses?

We began visiting Fairfield Glade in the mid-70's when living in the Nashville area. An easy two hour drive and ideal for long weekends with golfing friends allowed us to enjoy three or four rounds over a three-day, two-night stay. When time came for deciding on a place to spend the summer in semi-retirement, Fairfield Glade was a perfect fit. The location places us two hours from both of our married children and grandchildren and offers plenty of entertainment for all of us.

Before giving a detail description and how to make reservations, let us give a brief history and background of the Glade, as many locals call it.

In the early and mid-60's a developer built some small summer homes on land that was very remote and some 12 miles north of Crossville. The region is known as the Cumberland Plateau with elevations of some 2,000-plus feet, causing the summer temperatures to be some five to ten degrees cooler than Middle Tennessee and even Knoxville. Fairfield Properties based in Little Rock, Arkansas, also realized the potential for the area and purchased what had been built and amassed some 12,500 acres to create Fairfield Glade in 1970.

During the first five years, the Druid Hills golf course and clubhouse were built along with nearly 400 units of condominiums and housing. This was also a period of building infrastructure and creating room for expansion. The resort was taking shape and people were buying summer and permanent homes. By the early 80's the 18-hole Dorchester golf course was built and so was the championship Stonehenge course, including their own pro shops opening more land for development with beautiful views. St. George Marina was completed in 1971 offering more places for people to build homes and enjoy boating, fishing and gorgeous vistas on this 105-acre lake. By 1995, the 500-acre Lake Dartmoor opened with a full-service marina and boat storage and provided additional lakefront property with fabulous views. Today, a total of 11 lakes offer fishing and boating to visitors and owners.

Over a period of 13 years, the Heatherhurst golf courses were developed and now named The Crag and The Brae. These 36-holes were completed in 2000 and we now enjoy our relaxing summers living on The Crag. The attractiveness of five courses has brought not only day and overnight visitors to Fairfield Glade, but also long-term rentals, conference groups and Wyndham Timeshare owners. There are 485 timeshare units available to the general public through the Fairfield Glade reservations at: 931-707-2061, e-mail: info@fairfieldglade.cc. or online at: www.FairfieldGlade.cc. Thus, bringing us to a brief description to all the courses, accommodations and amenities.

There are some 4,400 single family homes and over 1,042 condos, townhomes and timeshares at Fairfield Glade. Rentals range from one to five bedrooms with full kitchens, baths and porches/decks. There are several hotels located near Fairfield Glade.

In 2000, the Tennessee Department of Tourism named Cumberland County the "Golf Capital of Tennessee." Including the five golf courses at Fairfield Glade, there are 10 courses in the county, and within a half-hour's drive, you'll find more than 25 golfing layouts you can play.

Druid Hills was the first course built (1971) at Fairfield Glade and offers spectacular views on both the front and back nine. You'll find the elevations set this course apart and the fairways are most forgiving. The first and tenth holes require a hook in your drives. When playing one of the State's most scenic holes, #14, make sure you hit the back area of the green since the front is protected by a small lake. On #15, a par 3, keep your shot towards the back as the green is designed with a severe "tilt" to the front. The 18th, par 5 demands a long drive and second shot to an elevated green. Overall, this is a very scenic and challenging course.

Dorchester was the second course built (1980) and probably one of our two favorites. In 2015, a new clubhouse was built in the same location where the former stood. It is a state-of-the-art facility and a great indication of how Fairfield Glade is constantly improving the facilities. Favorite holes on this course have to be #13 and #14. Thirteen is a par 3 with a tee situated some 100 feet above the green with a stream behind it lined in mountain laurel and stretching some 127 yards from the middle tee. The #14, par 5, is a test for any golfer's skills. From the tips, the hole is some 525 yards (451 from the white tees), doglegging left about 240 from the middle tee, crossing a beautiful stream twice, once at about 245 and once approaching the green. This beautiful and delightful layout was designed by golf course architect Bobby Greenwood.

The championship Stonehenge course, opened in 1984, is the stage for the Tennessee PGA Senior Open in May and Tennessee Women's Open in July. Designed by golf course architect, Joe Lee, Stonehenge has been named one of Tennessee's best public courses by Golf Digest, Golf Week and Golf Magazine for many years. This has to be one of Lee's best and most prestigious. He also designed Disney's three premier courses the Palm, Magnolia and Buena Vista layouts. This course creator who passed away in 2003 built friendly golf courses...but, challenging. Notable holes on Stonehenge include #'s 8, 14 and 15. Eight (500 yds) and 15 (501 yds) are extremely difficult par 5's with forced carries. Fourteen is a scenic par 3 with a 95 foot elevated tee and yardage of some 148 white/161 blue tees yards to a green situated with picturesque Lake Dartmoor as a stunning backdrop. This is probably the most photographed hole at Fairfield Glade.

Digest, Golf Week and Golf Magazine for many years. Above: Stonehenge numbers 14, 15 and 18.

The Crag and Brae courses are two delightful 18-hole courses designed by Gary Roger Baird and play out of the Heatherhurst Golf Clubhouse. The first 9-holes of the courses began play in 1987 with the second 9 opening in 1988, followed by the third 9 in 1990 and the final 9 to complete the 36 holes was in 2000. Again, indicating the continuous upgrading and expansion of this multi-faceted resort.

To describe che least challenging course of the five would not be fair. There are some holes that will spoil a good round and there are some that will bring you back to play it again. The back nine provides more elevations and memorable holes are #'s 10, 12 and 17. Number 10 is a long sweeping 485 blue/463 white tees and wide par 5. While #12 is a par 3, with elevated tee and stream protecting the front and right side of the green, requires an accurate tee shot to capture a birdie or par. Number 17 is certainly the signature and scenic hole on The Crag. This par-4, 368 blue/330 white yard hole places the tee box on an elevation of some 110 feet to a rather narrow landing area with a creek on the left. Your second shot should be reachable with a 6 to 9 iron, depending on your drive. Get your camera out for this one!

Probably the other course in our top two at Fairfield Glade would be The Brae. A most forgiving course and yet a very challenging course. From your first drive to your last putt, this beautiful and well-designed golf course is just a delight to play. Be warned holes number 4, 9 and 17 will require your best swings. Number 4 could be the number one handicap golf hole in the State of Tennessee and certainly at Fairfield Glade. This par-5, 515 blue/495 white yard hole requires three forced carries including a minimum 175 to 200 yard drive over a ravine and twice over a natural stream. Walking away with a bogie on this one is almost like making a birdie. Bring your "A" game for this hole. Holes 9 (a par 4) and 17 (a par 3) are long...reaching the green in regulation is commendable. Best photo op on this course will be the par-5, #10 with elevation sweeping down to a beautiful setting for the green, again, with Lake Dartmoor in the background.

Other resort amenities include tennis courts both inside and outside. During the summer, there are two outdoor swimming pools, plus two sandy beaches at Lake Dartmoor and Lake George. Year-round, there is an indoor pool at the recently built Community Conference Center (CCC) that also houses a 5,000 square foot convention hall for meetings and banquets, game room, arts & crafts room, basketball courts, pickle ball courts and a board room. Limited food and beverage is also available at the CCC, however full service catering is available for banquets, wedding and other occasions.

Speaking of food and beverage, the Legends Restaurant located at the Druid Hills golf course is open year-round and offers a full menu for three meals each day. The Fireside Lounge adjacent to the Legends is open for drinks and menu service. From April through November, the Stonehenge Grille is open for full menu service and offers a lovely view of the 18th hole. Both Dorchester and Heatherhurst Clubhouses provide limited food and beverage service. The Village Green Mall offers shopping, small grocery store, spa, salon and restaurants. Lots of holiday festivals, concerts and farmer's market are staged in this area of the resort.

When grandchildren visit, we'll spend time in the Druid Hills family recreational area with large swimming pool, children's playground, shuffle board, miniature golf, horseshoes and picnic tables. This area also offers an enjoyable Plateau Creative Arts Center and Library. A short drive past Dorchester Golf Club are stables offering horseback trail rides and hayrides.

When it comes to scenic beauty and enjoyment of the great outdoors, Fairfield Glade has a very active group who maintain the 12 miles of nature and hiking trails. Viewing a variety of birds, small animals and deer is sometimes taken for granted by those of us living here. This place is awesome when it comes to getting close to nature and its wildlife. Sure beats the hustle and bustle of big city life!

Keeping fit and active is easy to enjoy with the state-of-the-art Wellness Center with indoor track, pool and every imaginable exercise machine you could want.

As one can see, Fairfield Glade is continually updating, improving and adding new facilities and products. Recently announced is the building of eight outdoor pickleball courts next to the current indoor tennis courts. Plans are being developed to possibly construct a new and modern Stonehenge Clubhouse starting in late 2017. In five or more years, they hope to build a new Druid Hills Clubhouse. Currently, there are no plans to add more golf courses. All new additions that include food and beverage will be an enhancement to the service business.

A bright future seems to be in store for Fairfield Glade Resort. Being residents, we feel the oversight of our board and through the management direction of Bob Weber as General Manager and Jeff Houston as Director of Golf, there are lots of grand times and great fun ahead in our semi-retirement.


Revised: 08/16/2016 - Article Viewed 19,087 Times - View Golf Course Profile
Share Comment
Written By: Ed Stone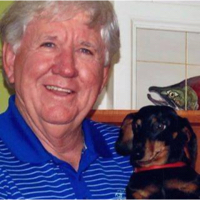 Ed has played golf on more than 350 courses in the United States and foreign countries. He loves the sport and enjoys promoting outstanding locations that helps to preserve the game.

With over 40 years of experience in the travel and hospitality industry, Stone has a wealth of knowledge and experience in tourism and attraction marketing. He has held director and vice president positions with Callaway Gardens in Pine Mountain, Georgia and Opryland USA in Nashville, Tennessee. For thirteen years he owned his own Marketing & Communications Agency, Stone & Associates in Hendersonville, Tennessee with major regional and national accounts.

Ed has major accomplishments in the areas of marketing, research and development planning, advertising, public relations, publicity, sales, television and event production. While vice president of marketing at the Opryland USA complex, he was the executive producer for several major television specials on NBC, ABC, CBS, TNN as well as working on many syndicated television specials.

He is a graduate of the University of Georgia's Henry W. Grady School of Journalism with a B.S. degree. Ed is a member of the Society of American Travel Writers (SATW) where he has been honored with Marco Polo status (the highest honored SATW can bestow upon an Associate member) and a trustee for the SATW Foundation.

He is the recipient of a coveted "SATW Bill Muster Photo Award" and the Central States Chapter of SATW has awarded Ed with over a dozen prize-winning photography awards in the areas of scenic, people and overall.

Ed is an accomplished photographer and an avid golfer. He lives in Tennessee in the summer and Florida in the winter.
Like Us For Local News and Specials